The

Final Report

of the Independent Fiscal Commission for NI, launched earlier this year, sets out 23 recommendations for a comprehensive framework for implementing enhanced fiscal devolution for Northern Ireland.
As referenced in their Final Report, it is the Commission's strong view that there is learning from their work which is relevant to fiscal devolution elsewhere in UK. This encompasses not only the Commission's appraisal and conclusions on the over 20 UK-wide taxes which they considered for devolution to Northern Ireland, but also the mechanics of how those powers are operationalised.
Accordingly, since the publication date, the Chair and Commission members have participated in a series of key economic events, presenting on the Commission's findings and sharing key learning gleaned as part of the review process in Northern Ireland, alongside economic and tax specialists from GB and RoI.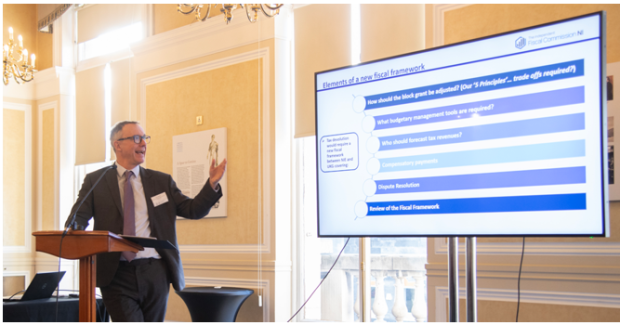 Events have included:
Northern Ireland Economic Conference 2022

, Templepatrick, Northern Ireland, 30 November 2022 - 

Commission Chair, Paul Johnson, presented on 'A framework for enhanced fiscal devolution for Northern Ireland'.
Joint Taxation Conference:

'Tax Devolution in the UK: past, present and future'

, Edinburgh, Scotland, 21 November 2022 - 

Commission Chair, Paul Johnson, and Commission member, Prof Iain McLean, presented at the conference hosted by the Celtic Academies Alliance, led by the Royal Society of Edinburgh in collaboration with the Royal Irish Academy and the Learned Society of Wales.  The event which reviewed the progress of tax devolution in the 3 devolved administrations, and the associated risks and rewards, as well as exploring some of the operational aspects of administrating devolved taxes and the structures required. 
NICS Economist Profession Conference 2022

, Belfast, Northern Ireland, 7 October 2022 - 

Commission member, Prof Cathy Gormley-Heenan, and Fiscal Commission Secretariat Chief of Staff, Aidan McMahon, presented an overview of the Fiscal Commission's recommendations alongside a discussion of the Northern Ireland context and key features for any new fiscal framework for Northern Ireland.

Institute of International and European Affairs Economists Group

, Dublin, Ireland, 24 June 2022 - 

Commission Chair, Paul Johnson, presented on 'The Future of Northern Ireland's Fiscal Policy: Recommendations from the Fiscal Commission for Northern Ireland'.